Our Rating:
Key Features:
Durable Cast Iron Material
Non-Slip Ergonomic Handles
Multifunctional
Affordable
---
Long-Lasting, Uber-Functional Dutch Oven that Costs Less
If you've dreamed of adding a Dutch oven to your collection but balk at the price of the heritage brands and refuse to settle for lower quality, we've found your answer. The Misen Dutch Oven is made with the same quality and durability as those outrageously expensive pots but comes with a price tag closer to that of the bargain brands.
You may spend less with this pot, but you certainly won't get less.
This four-layer enameled cast iron dutch oven has a simple look but a highly functional design. The wide bottom means more space to sear than your typical 7qt pot. And the multi-talented lid doubles as a grill pan that, like the pot, is compatible with all range types and is oven safe.
With this quality dutch oven, you can do even more than you can with those expensive brands. But unlike other affordable options, this one is built to last.
Pros
Affordable
Strong cast iron core
Four separately fired layers of durable enamel
Wide, easy-grip handles
Dual-function cast iron lid and handy silicon lid
Cons
Inventory on color options is limited
Predictably heavy
Should You Buy It?
For those looking for quality, durability, and functionality in their new dutch oven, Misen delivers.
If affordability is your biggest concern, this product has you covered there as well. Bottom line: if you are in the market for a new dutch oven, this one should be on the top of your list.
Disclosure: This product was sent to us by the manufacturer for free in order for us to provide an honest review. However, this does not affect how we rate and review the product and all opinions are our own. We may earn commissions from any purchases made through links clicked on our website.
Misen Dutch Oven Overview
The 7qt dutch oven from Misen is one of many cookware options now available from the company. This is their only dutch oven option, which is a shame because we would love to see the same quality and price in various sizes so we can collect them all.
This dutch oven has no problem competing with industry leaders like Le Creuset. And in a few categories, it flat out beats the competition.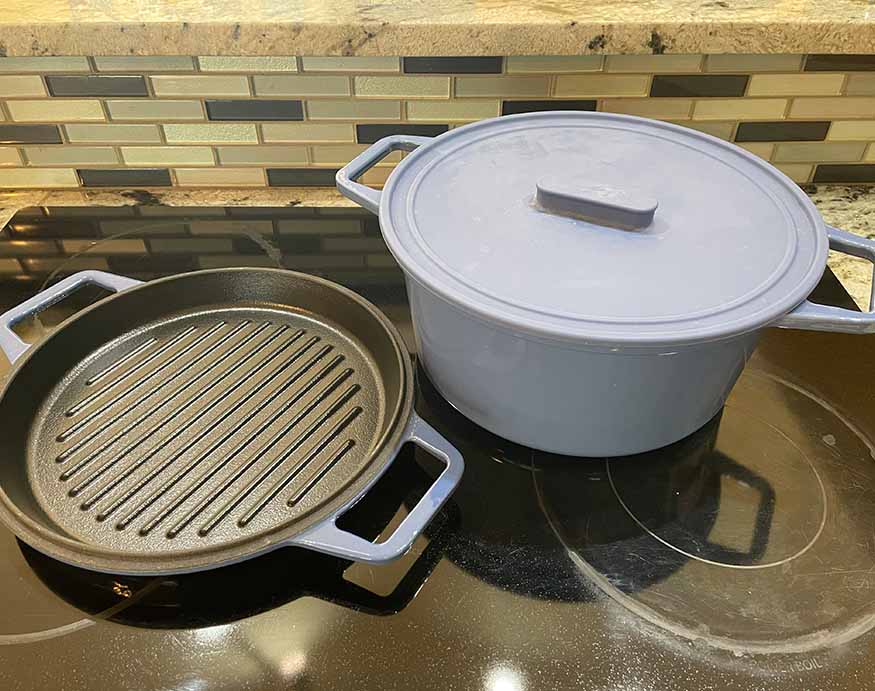 Most notably, its lid doubles as a grill pan in the oven and on the range. If you already have a grill pan you love, you can opt for a more traditional handled lid. In either case, you'll also receive a universal silicone lid that creates an airtight seal on the dutch oven as well as just about any other flat-topped pan, bowl, or pot you own.
The other place where this dutch oven shines is on the price tag. Traditional, quality dutch ovens cost upwards of $400. This one is wonderfully priced at $165. That price doesn't reflect the quality of this pot, but rather, Misen's commitment to creating affordable, dependable cookware.
Misen got its start in 2015 after a successful Kickstarter campaign. Since then, they've delivered on their promise to provide premiere kitchen utensils at prices that everyone can afford. In addition to this fabulous dutch oven, their lineup includes knives, pots and pans, and some handy kitchen essentials.
While their fantastic chef's knife may have been their first product on the market, we believe it will be their dutch oven that truly puts them on the map.
Why is this dutch oven so good? Find out in our full Misen Dutch Oven review below.
How the Misen Dutch Oven Performs
I had a chance to try the Misen Dutch Oven for myself. The only thing that got in the way of me enjoying this fantastic pot was my husband, who immediately decided this was his new favorite kitchen utensil.
Squabbles over ownership rights aside, I found a lot to love about this product.
Cooking Performance
If you've ever had the pleasure of using a well-made dutch oven, you know how awesomely versatile they can be. Thanks to a couple of key additions, the Misen dutch oven takes this idea to the next level.
The wide base on this 7-quart pot is 1 to 2 inches larger than most dutch ovens of the same size. That means more room for searing and sauteing. It also means that this pot has a wider mouth and lower sides, making it easier to use overall.
I found these features especially helpful when making one-pot baked recipes like lasagna and corn-bread chili. The greater surface area allowed for more even cooking from top to bottom.
Also helping with the even cooking is the thick cast iron core covered in 4 even layers of durable enamel. This combination allows the pot to heat up quickly and retain heat evenly through the bottom, sides, and lid.
The other great feature that adds to the cooking performance of this pot is the dual-purpose lid.
The lid is made of the same cast iron core and enameled layers as the pot. This means it is just as durable and can be used in the oven and on all types of stoves. Plus, the lid has matching side handles that align with the handles on the pot for no-spill transfers between the range and oven.
And, most importantly, the heat from the pot quickly and easily moves through the lid for 360 degrees of even cooking. It only takes minutes to feel the lid heat up after turning on the burner under the pot.
The lid can also double as a grill pan, perfect for meat lovers, and helps cut down on the number of dishes you have to do once your meal is prepared.
Overall, the cooking performance of this dutch oven quickly matched that of my higher-priced ovens while outperforming them in lid versatility and cooking surface area.
Cleanup
There is always going to be some cleanup associated with your dutch oven. This just comes with the territory when you cook recipes for long periods and transfer them between the oven and range. But in most circumstances, cleanup of this dutch oven was straightforward.
The smooth enamel surface helped prevent food from sticking on low to medium heat settings. This made cleanup as easy as wiping the pot down with soapy water.
The only time I had to deal with a stuck-on mess was when I attempted a corn-bread topped chili recipe meant for the campfire. Experimenting with stove-top baking with intermittent time under the broiler left a burnt-on layer of chili on the bottom.
I had to break out the baking soda to clean up this mess, but after a bit of elbow grease, the pot looked as good as new.
For those who genuinely hate scrubbing pans, this dutch oven is listed as being dishwasher safe. But the manufacturer recommends handwashing to prolong the product's life.
Durability
It is hard to rate durability on any product until you have had it for a while. With dutch ovens, which should last generations, this task is even more difficult.
Judging from the heftiness of this pot—you can certainly feel that cast iron core—and the look of the enamel coating, I would suspect this oven will last quite some time.
The coating is even and thick. This means less of a chance that water will ever reach the cast iron core and cause issues with rust.
The enamel on cheap dutch ovens tends to stain and crack over time. These pots are also more likely to break at the handles. The Misen dutch oven has wide, thick handles that I don't see ever breaking off, and the thick layers of separately fired enamel should hold up longer than most.
Alternatives to the Misen Dutch Oven
The Misen dutch oven is an excellent option for those looking for a premier product and those looking for a bargain buy. But it only comes in one size, which may mean it isn't suitable for your needs. If you are looking for something a little bigger or smaller, you have some options.
If you are looking for a smaller dutch oven, the Michelangelo 4 and 5-quart options are worth considering. These are bargain-priced pots that cook evenly and last longer than the competitions. They come with simple lids and aren't as functional as the Misen, but they will get the job done for smaller meals.
If you need something on the larger end, the 9.5-quart Le Creuset is going to be your best option. Bargain brands typically don't make enameled dutch ovens in this size, so going premiere is your only option. But considering the size and quality, this pot is priced pretty well.
| | | | |
| --- | --- | --- | --- |
| Attributes | Misen | Michelangelo | Le Creuset |
| Notable features | Dual-purpose lid, double handles, wide bottom | Wide loop handles, lid with stainless steel knob | Extra-durable interior enamel, lid with composite knob, wide pot |
| Color options | Blue, black, gray, red, green (limited availability on some colors) | Red, blue | Red, orange, dark blue, light blue, gray, white |
| Size | 7 qt | 4 or 5 qt | 9.5 qt |
| Price | $$ | $ | $$$$ |
Things to Consider Before Buying a Dutch Oven
Once you've decided to purchase a new dutch oven, there are a few things you should consider to make sure you find the right one for your needs.
Material. Stainless steel dutch ovens are easy to clean but do not heat evenly. Cast iron is durable but hard to keep from rusting unless it is covered in enamel. Ceramic dutch ovens are lighter than cast iron but also more prone to cracking.
Size. Dutch ovens come in various sizes, from single-serving 1-quart options to hefty 13.5-quart types. You should consider how much food you typically cook and available storage space before committing to one size over another.
Lid design. All dutch oven lids should fit securely. Most are made with a single handle in the center. We've found the best options to feature side handles that prevent spilling with dual-purpose lids that can double as pans.
A Great Dutch Oven
A dutch oven is a great way to expand your cooking options and is unlikely to be a purchase you'll regret. That is unless you spend too little money on a cheap pot that breaks or too much money on one that isn't worth the price.
You can avoid both these situations by choosing the Misen Dutch Oven. This affordable option is built like a premier oven but with more features and more to love. But it will cost you half as much while lasting just as long.
To learn more about the Misen Dutch Oven or to order yours today, click here.