Our Rating:
Key Features:
177km/h (110mph) air speed
40v Li-ion battery
Axial fan design
Built in cruise control switch
---
A super powerful and flexible cordless blower
Greenworks has once again released a high-quality battery-powered blower that can compete with even gas models.
The 40V battery system provides a huge amount of power, and this combined with an axial fan system means that this unit is a real beast.
The variable speed trigger gives this model the flexibility it needs to give the subtle power adjustments required for different jobs.
A couple of small items to note are the high noise level and the fact that this unit is heavier than cheaper models – but neither of these items is a deal-breaker.
Pros
Lots of power
Good battery life
Cruise control
Easy assembly
Cons
Noisy for a battery model
On the heavy side for battery models
Should You Buy It?
If you are after a battery blower that can compete with gas powered models, but without the mess and complications that come with these units – then the Greenworks Axial 40v Blower is probably what you are after.
Give Greenworks a go, you won't be disappointed.
Disclosure: It is important you understand that we may receive commissions when you click our links and make purchases. However, this does not impact our reviews and comparisons. All opinions are our own we pride ourselves on keeping our articles fair and balanced. For more info see our disclosure statement.
Greenworks 40V Blower Power
The Greenworks Axial blower is certainly not short of blowing power. I was quite surprised when I first tried the unit, I really expected it to be lackluster, but 5 minutes of testing the tool took care of this misconception.
This powerful unit pushes out 430 CFM of air at a max speed of 115 MPH. This amount of power is generated by the 40V motor and battery, which powers the axial fan system.
I am pleased to report that the amount of airflow proved to be more than enough power, and I am actually thankful for the variable speed trigger which allowed me to lower the power when blowing debris from our stoned pathways, without blowing away the stones themselves (which it would easily do).
Learn more: The best cordless leaf blower
Battery System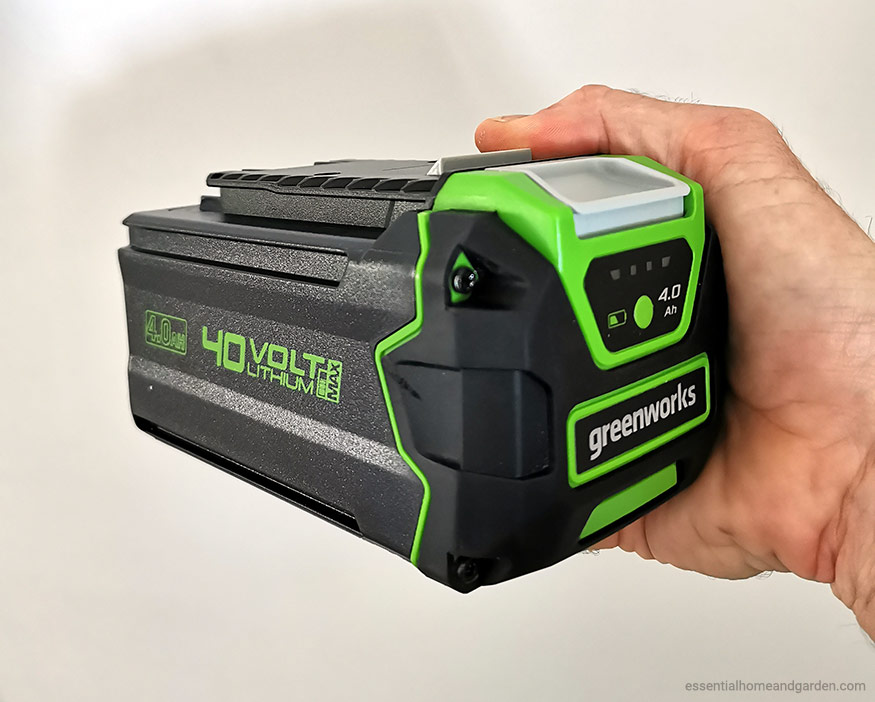 The 40V battery system provides a great amount of electrical power to the tool's motor – which allows it to pump out the amount of air that it does.
A 4ah battery will give you about 20 minutes runtime, which I found was more than enough to get all but the biggest jobs done on a single charge. On that note, if you can afford it, I would highly recommend taking the 4ah battery option over the 2ah models – in my experience, the 2ah models just don't last long enough for most jobs.
When the battery is flat, a 4ah battery will take about 2 hours to charge, which is a little slower than I would like – so you may want to consider purchasing an additional battery if your blowing tasks usually take longer than 20 minutes.
Usability
The Greenworks Axial 40v blower is super easy to assemble – it literally just needs to have the blower tube clipped on and the battery inserted and it's ready to go.
While this battery-powered model is lighter than gas powered leaf blowers, it is still on the heavy side of the scale. This is mainly to do with the larger motor and the 40V battery. It is by no means unwieldy, but if you are looking for something that is really light then this might not be the best model for you.
And on the subject of weight, the unit is very well balanced and it doesn't feel like you are always fighting against the weight of the motor/battery or the blower tube like I have found in some other models.
The variable speed trigger is super handy, as it means you can tackle both the delicate blowing jobs, as well as the tasks that require the axial blower's full power. And the cruise control option that allows you to set a constant speed without needing to hold the trigger is a great feature.
There is one possible negative that should be mentioned here, and that is the noise level that this blower puts out. Due to the high power motor, this unit puts out between 60-85dB(A) of noise. This is quite loud and can even be ear-piercing at times – hearing protection is highly recommended.
Quality
Greenworks has quickly become a well-known brand in the power tools market, and this is due to its constant release of high-quality tools that do what they are meant to do.
The quality of the Greenworks axial blower is up there with the more expensive brands and I found nothing to complain about on this side of things.
The body is built of very sturdy feeling, high-quality scratch-resistant plastic, and the blower tube is solid but flexible enough to survive the bumps and knocks which happen during blowing tasks.