If you're a homeowner, then you know the struggle of keeping your garage organized and clean. While primarily made for parking spaces, the vertical and horizontal spaces can make for great storage options. However, it can also quickly turn into a chaotic pile-up of boxes, tools, and other household items when left unmaintained,
I mean, how easy is it to chuck large boxes of Christmas ornaments into your garage and let them sit there until the season comes around?
While this "leave and forget method" of storing can provide temporary convenience, it can also turn your garage into a bottomless pit of cluttered pandemonium. In fact, if you're not careful, piling up items this way can create breeding grounds for unwanted critters such as mice, spiders, cockroaches, and insects that prefer dark, unbothered spaces. And, let's not forget the fact that you might not even have enough space even to park your cars!
So, this begs the question: what can you actually do? Luckily, we've rounded up the perfect space-saving garage storage ideas to keep your garage tidy, clean and most of all, organized.
And the best part? Most of these garage storage systems can be done DIY, making for a fun long-term project you can enjoy in your spare time!
Disclosure:It is important you understand that we may receive commissions when you click our links and make purchases. However, this does not impact our reviews and comparisons. All opinions are our own we pride ourselves on keeping our articles fair and balanced. For more info see our disclosure statement.
Garage Storage Ideas To Make The Most of Your Garage Space
1. Maximize Vertical Space with Wall-Mounted Shelves
By far, the best tip to keep your garage floors tidy and uncluttered is by utilizing vertical spaces – this means using your walls to store items! And, the best way to do this is by using wall-mounted shelves. This nifty storage method not only keeps your things off the ground but also provides a host of organization options that are only limited by your imagination!
You can use wall-mounted shelves for just about anything, such as storing and organizing outdoor shoes, gardening equipment, and seasonal items like Christmas decor. As such, I recommend using sturdy metal shelves such as FLEXIMOUNTS WR24B Storage Rack to provide you with the most longevity and durability. I mean, can you imagine the horror of stepping into your garage one day to see your shelves caved in and your precious, fragile items smashed to pieces?
2. Generate More Space with Overhead Shelving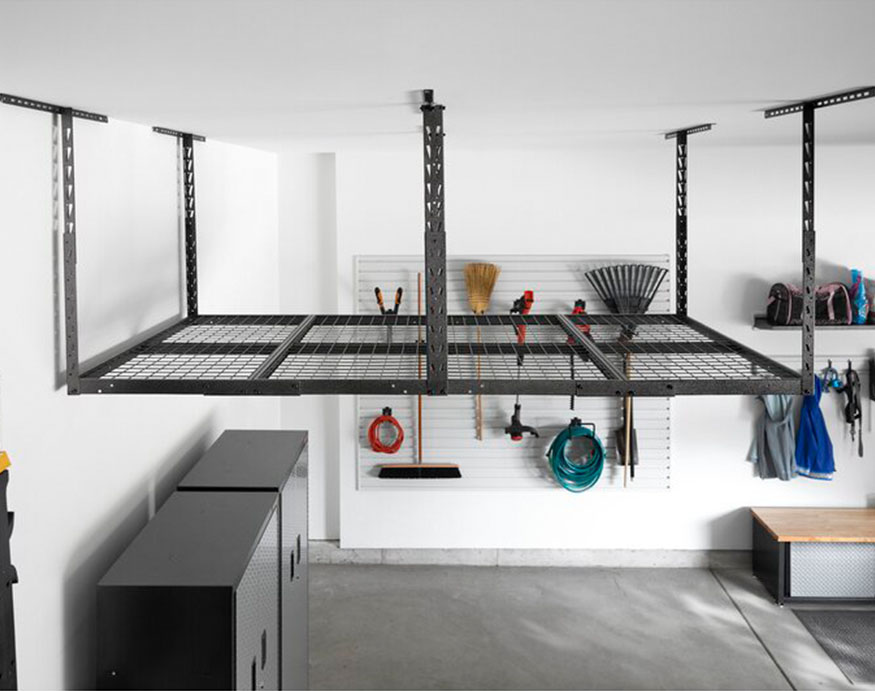 Utilizing vertical spaces isn't the only way to create more space and organization in your garage – you can also use your ceiling! An excellent way to use this method is by using overhead shelving. Preferably, you might want to use this trick to store more seasonal or rarely used items and tools as it might not be the most convenient in terms of accessibility.
Since this method can pose quite a hazard if done improperly, extra caution must be applied. In this regard, using extra sturdy overhead shelving like the GearLoft Overhead Garage Ceiling Mounted Rack is pertinent to prevent accidents. 
Also Read: Storing Kayaks in the Garage: 6 Ways
3. Organize Long or Awkwardly Shaped Items with Tracking Systems

Let's face it, one of the hardest to store items are oddly shaped objects and tools like spades, forks, hoes, and even wheelbarrows. While not the bulkiest, these can often pose a challenge to organize. They even may take up more space than you realize. Luckily, tracking systems may be just what you need and can be super handy to install after cleaning up your garage.
Tracking systems are great tools to utilize vertical spaces while maintaining a great level of accessibility and organization. We recommend using the Gladiator GarageWorks as it is durable and has an assortment of attachments that you can keep adding on to store more and more items and tools!
4. Easily Store and Organize Items with Sturdy Hooks
Some items are just tough to store, no matter how you arrange them on shelves or containers. This is where good old-fashioned hooks come in. Obviously, these will help you save space, but they also provide a tremendous amount of versatility for storage options – you can hang just about anything without even thinking about it!
You can use larger hooks to store items such as ladders and bulky gardening equipment. And smaller hooks to hang gloves, helmets, and other sportswear that are prone to retaining sweat, avoiding odor-causing bacteria.
As such, when choosing the right hooks for your garage, you may want to think about two things: load-bearing and versatility. For example, the ORASANT Heavy Duty Garage Hooks are great for storing an assortment of items because they are durable and come in various sizes.
5. Avoid Drilling and Destroying Your Walls with Free Standing Metal Shelves
If you're living in rental homes or just not in favor of drilling holes in your walls, free-standing metal shelves provide a great alternative to keeping your garage tidy and organized. While not the best space-saving option, these shelves can be great for those that want an easy way to store items with minimal effort.
As an added tip, we recommend sorting your items in containers and toolboxes and storing your most frequently used items in the most easy-to-access shelves and vice-versa. Likewise, having adjustable metal shelves like the Whitmor Supreme 4 Tier Shelving can save you the headache of having to cram items into tight spaces.
6. Divide and Conquer with Tool Boxes and Containers
OK, let's get to the fun part of freeing up space in your garage: the actual organization! As far as sorting and storing goes, you can never go wrong with utilizing toolboxes and containers. These not only provide an efficient way of organizing but also makes accessibility a breeze. And, can we just say, choosing and selecting containers can be oh so therapeutic. Just think of the array of selections you can choose from – or even mix and match – to complete your garage aesthetic!
To give you a little more insight, here are a few organization tips you may want to consider before hopping onto your buying spree:
Use metal mesh containers like the YBM Mesh Open Bin Metal/Wire Basket for larger and frequently used items, making them more visible and easier to access.
Use narrow plastic baskets to store garbage bags and other cleaning materials. The CitylifePlastic Basket Set is a wonderful option for those that need several baskets and want to keep the same look.
Use opaque bins such as the Rubbermaid Roughneck️ Storage for more complex items like Christmas decor to reduce the "cluttered look" (simply, label them for easy access).
7. Sort Small Tools with Pegboards and Never Lose Them Again
Are you the type to lose your small tools and parts quickly? Or maybe you're just tired of rummaging through your toolbox to find that one exact screw? Well, with pegboards, you can easily store, organize and access all your tools and smaller items without worries of them getting lost amid your DIY projects.
And, if you're looking for something more versatile and sturdy to hold more than just small tools and trinkets, you can invest in broader and more durable pegboards like the Wall Control 30-WRK-400 BB Pegboard. This provides a large surface and shelf attachment that can easily hold toolboxes and heavier items.
8. Label and Sort Products by Zones to Maximize Accessibility
When planning out your garage organization ideas, it's best to keep in mind that sorting products by zones is just as essential as the product choices.
For example, you can place your gardening tools by your garage door to maximize accessibility or placing seasonal items on your overhead shelves to reduce the look of clutter. And, just as crucial as creating zones is labeling. After all, you don't want to look through numerous opaque bins just to figure out where you put your summer garden lights or Christmas decor.
9. Make Use Corner Shelves to Get the Most Out of Your Vertical Space
It's one thing to make use of vertical space, but it's another thing to maximize every part of your garage walls. That's where corner shelves come in. These handy shelves are great for those with smaller garages as they save on space and give a generous amount of storage options for various items.
You can even make these yourself with a bit of plywood and woodwork, but if you're looking for a quick alternative, the Evron Corner Mounting Shelf is excellent for layering and very easy to install.
10. Store More Items with Cabinets
For those with a little more space, cabinets provide a great alternative to shelves. These can easily hide clutter and make items more accessible – depending on where you add them.
And, if you're feeling a little more adventurous, sliding cabinets provide way more space and organization than shelves and hooks and keeps your garage neat and sleek. Although, you may have to hire a contractor or spend a little more time and budget to create these.
Get Crafty, Creative and Most of All, Have Fun
Whether you're thinking of overhauling your whole garage or simply adding on to it, getting crafty and creative is just as essential as planning and execution.
There might be some aspects of these garage storage ideas that you can even build yourself – or even with your kids! After all, what's a DIY project without a bit of fun and family bonding?