Our Rating:
Key Features:
Hushed whistle
Non-toxic ceramic
Compatible with induction, gas, and electric stoves
Modern design
---
Stunningly Beautiful Tea Pot that Improves on the Age-Old Design
Like so many of Caraway's products, their new whistling teapot immediately impressed us. From the thoughtful zero plastic packaging to the gorgeous yet functional design of the teapot itself, there is no detail of this product designed without care.
The lightweight yet durable stainless steel body is coated in Caraway's signature non-toxic ceramic for a splash of color to light up your range top. And the unique upright design of the handle and spout means it takes up less room while still boiling up to 2 quarts at a time. This looker is also easy on the ears thanks to a hushed whistle that lets you know when the water is ready without waking the neighborhood.
Review Criteria Ratings
Pros
Gorgeous design
Non-toxic materials
Hushed whistle
Comes in seven different colors
Manufactured with lower environmental impact
Cons
The handle can get hot
The lid can be difficult to get into place
A little pricey
Should You Buy It?
Looking for a gorgeous tea kettle to add to your collection of non-toxic kitchenware? Then the Caraway Tea Kettle is a definite YES! Not only is this tea kettle beautiful, but it is made of non-toxic materials that are better for your family and better for the planet.
Disclosure: It is important you understand that we may receive commissions when you click our links and make purchases. However, this does not impact our reviews and comparisons. All opinions are our own we pride ourselves on keeping our articles fair and balanced. For more info see our disclosure statement.
Caraway Tea Kettle Overview
Caraway Home creates non-toxic ceramic kitchenware that is better for the environment and for families everywhere. Their ceramic-coated aluminum and stainless steel cookware offer the ease of non-stick in a form that contains zero PFAs or heavy metals.
I've had the pleasure of reviewing their cookware set as well as their full bakeware lineup and continue to be impressed by the quality of Caraway's products.
Their whistling tea kettle is the newest product to that lineup.
This compact kettle was designed for both looks and function. The body is made of magnetic stainless steel that is compatible with induction, gas, glass top, and electric ranges. The inside is food-safe stainless steel, while the outside features a nonstick ceramic coating to add color and ensure an easy-clean surface.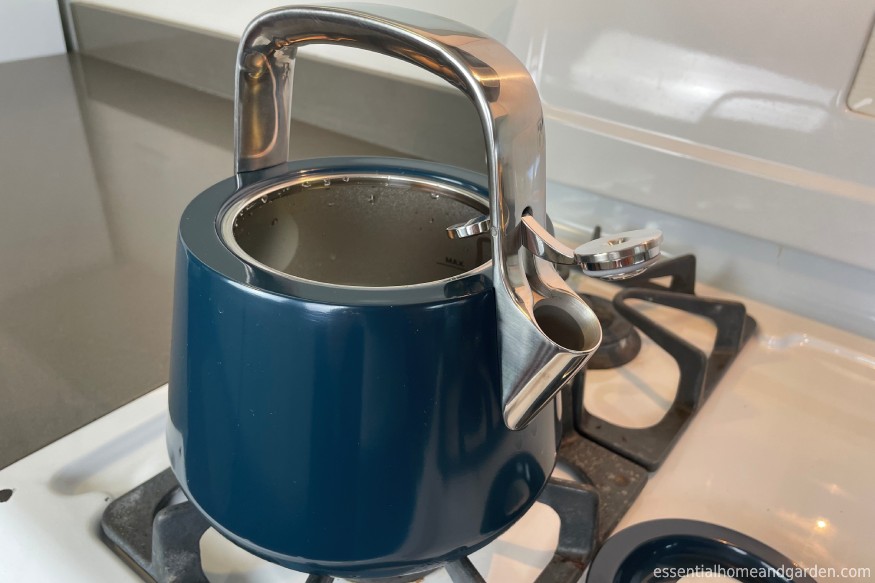 The lid has a rubber gasket that creates a tight seal. And the spout features a hushed whistle that is just loud enough to get your attention but not anywhere near as loud as a traditional whistling kettle.
Given how much I've enjoyed other Caraway products, I was very excited when I got the opportunity to test this kettle in my own home.
Read my full Caraway Tea Kettle review below to find out what I loved about this little teapot and where it didn't live up to my excitement.
How The Caraway Tea Kettle Performs
Like all caraway products, this tea kettle arrived nestled in a cute little box filled with recycled packaging. There wasn't a piece of plastic in sight—even the tape was made of paper!
Inside the box, I found my navy blue teapot and a beautiful matching hot pad. The thick, cozy hot pad instantly became my favorite (I threw my old stained ones away immediately). And it was just a bonus item!
I was ready to love the beautiful tea kettle just as much, but first, I had to put it to the test.
Function
In terms of functionality, there is a lot to love about this teapot. The hushed whistle is a huge improvement over traditional whistling kettles. The sound is easily audible, but never reaches that screeching pitch.
It's a breathy whistle that gets more hoarse as the water gets hotter. The Caraway kettle topped out at around 73 decibels at a roiling boil. My old metal teapot hit 80 decibels at its hottest.
The shiny stainless steel handle is high enough off the body that it's easy to fill the pot. The wide opening on top also helps make adding water simple despite the lack of a collapsible handle.
This opening features a rubber gasket for a tight seal. This was a little problematic as the top of mine slipped out of place, causing the lid to go on cockeye. It was easy to push the top flap of the gasket back into the groove, but I suspect this might be a frequent issue.
But, even with the gasket slightly out of place, there was still enough air going through the whistle to make noise.
The only other issue I have with the functionality of the kettle is that the handle gets hot if the pot is left on the burner too long or if you're boiling a lot of water at once. This is, of course, the tradeoff you make when you select a plastic-free teapot.
And that's exactly why Caraway sends the cozy pot holder along with your order.
So, how fast can it boil water? In my side-by-side comparison with my trusty metal kettle, the Caraway took 13 seconds longer to boil. But, overall, I found this kettle functioned well and had plenty of features that made it more useful than my old teapot.
Form
The Caraway kettle is thoughtfully designed to be highly functional. But it's the looks of this gorgeous pot that really make it worth the buy.
It has a sleek modern design that would fit in just as well in a minimalist kitchen as one with a kitschy old barn aesthetic. The unique shape of the pot means it takes up less space on the stove. This is great because you're going to want to leave this pretty kettle out for people to see.
The ceramic coating on the exterior has a smoother look than the painted metal you normally see on teapots. It also has the awesome advantage of being super easy to clean.
So no worries about splashing grease or spaghetti sauce on this piece of kitchenware. All it takes is a warm soapy rag to get it looking like new.
The Caraway kettle is available in the traditional Caraway colors—navy, cream, gray, perrecotta, sage, and marigold—as well as mist, a light minty green available only on their teapot.
Price
Compared to other stove-top kettles, this one is a little on the pricey side. But, considering how functional and beautiful it is and how dedicated this company is to creating safe, sustainable products, we say it is well worth the splurge.
Alternatives
The Caraway Home teapot is a fantastic buy for those looking for a beautiful yet functional centerpiece for their stove. But if you don't have the money for such an indulgent piece, there are some alternatives out there.
For those in search of a large-capacity teapot, the Kumminger Whistling Tea Pot is a great choice. This large kettle can hold up to 3.4 quarts. And it features a 5-layer base with stainless steel, aluminum, and iron for a safe food-touch surface that heats up exceptionally quickly.
Or, if you want to stick to a plastic-free option, the Belanko Tea Kettle is worth considering. This cute little kettle is made of stainless steel with a collapsible silicone handle patterned to look like wood. It is a touch bigger than the Caraway at 2.5 quarts and comes in 8 great colors.
To learn more about why we would still choose the Caraway Tea Kettle over these cheaper alternatives, click here.