Our Rating:
Key Features:
Funky Vintage Design
Four Extra-Wide Slots
Seven Heating Options
User-Friendly Control System
---
Funky Vintage Toaster that Performs Like a Modern Marvel
The Buydeem 4-Slice Toaster dares to ask the question, can a toaster be cool? This toaster, I dare to say, is freakishly cool. And all while being highly functional and a joy to use.
With four extra-wide slots and seven heating options, getting the perfect piece of toast has never been easier. But why stop there? The special bagel setting, reheat function and defrost mode mean you can also perfect your bagel, English muffin, frozen waffle, and day-old toast.
This vintage toaster brings more than just looks to the table (or counter). It cooks evenly, is built to last, and is sure to be an ongoing topic of conversation with your houseguests.
Pros
Fun, funky finish
Smooth operating levers
Seven heat settings
Three cook modes
Extra-springy retrieval lever
Cons
A little tough to lock levers down
Not suitable for squares
Should You Buy It?
Do you like chic, vintage style? Do you like perfectly crispy, effortless toast? Then you have your answer. This little beauty is worth every penny.
Buydeem 4-Slice Toaster Overview
The Buydeem 4-Slice toaster is an extra-wide take on the company's 2-slice masterpiece. This wider version comes with all the same great features and the same awesome look, but with doubled everything, making it the perfect toaster for families.
This flashy appliance has all the same great functions you would expect from any high-end toaster.
But what really sets it apart is the unique, retro design. The Buydeem 4-Slice is available in three colors: mellow yellow, cozy greenish, and retro stainless. All colors come with rounded features, stainless steel accents, and that perfect vintage feel.
Toasters aren't the only retro appliance this company is known for. Buydeem has been providing chic kitchen gear to the Asian and global markets for nearly 20 years. Their goal has always been to create effortlessly functional appliances with a high-end design that brings life back to the kitchen.
The company is most famous for its multi-function Kettle Cooker but now has several products on the market, including steamers, tea makers, and a ton of kitchen accessories. To date, they have sold over one million products worldwide.
Their toaster line takes the idea of sleek, high-end design to a new level and back in time. If you like a little funk in your kitchen, this is the toaster for you.
The Buydeem 4-Slice is certainly a looker, but how does it perform? I had a chance to try this fun toaster out for myself. Keep reading to see my full Buydeem 4-Slice Toaster review and to find out if this vintage appliance lives up to the hype.
How It Performs
I had the awesome opportunity to test out the Buydeem 4-Slice toaster live and in person. I even got the mellow yellow color, which perfectly matches the walls in my kitchen. And the stainless embellishments go great with my other stainless steel appliances.
But looks don't cook breakfast, so let's talk about how this little toaster performs.
Build Quality
The first thing you'll notice about this toaster is that there is hardly any plastic on it. The colored shell and the moving parts are all made of stainless steel. The only major plastic component is on the bottom.
The toaster isn't much heavier than your standard 4-slicer, but it does feel solidly built. The levers don't feel flimsy, either. And I love that the buttons aren't covered in clear plastic and aren't likely to crack or degrade over time.
Cooking Performance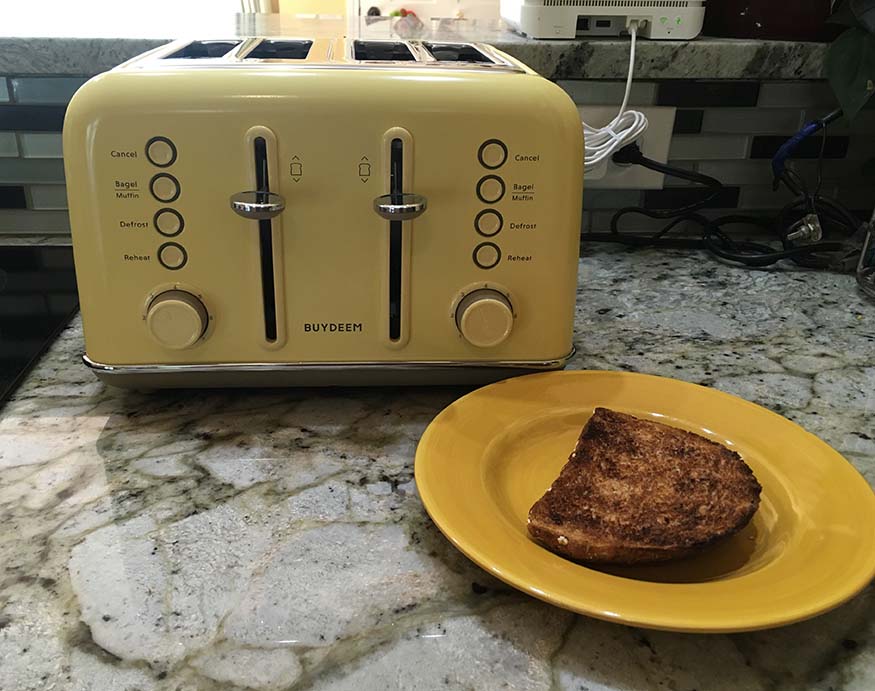 In terms of cooking performance, this appliance really shows up.
The differences between each heat setting are striking—each step up from 1 to 7 toasts to a noticeably different level of perfection. I found 3 to be my sweet spot, creating just enough crunch and browning without overdoing it.
For thicker bread and bagels, I had to dial it up a bit. But there's still plenty of room left to crank up the heat for those who like their toast on the super-crunchy side.
It takes a little extra push to get the levers to lock in place, but this isn't overly noticeable.
On the lowest setting, a piece of bread takes about 1 minute to cook. On the highest, you'll be waiting just over 3 minutes.
One very useful feature of this toaster is that you can control each side independently. This means you can cook crispy English muffins using the bagel function in one set of slots and perfectly browned toast in the other.
There was a little bit of an odor when I first started using the toaster—something like hot plastic. My husband immediately smelled it and dubbed it a "new appliance" smell, so I don't think it was anything out of the ordinary. And it did go away after a few uses.
Features
This little toaster has just about as many features as any toaster out there, including:
Seven heat settings for barely crunchy to nearly burnt toast and everything in between.
Defrost and reheat settings for warming without crisping.
A bagel setting that heats both sides but only toasts the inside.
An extra-high retrieval lever for removing toast without burning your fingers.
Wide 1.4 inch slots for thick Texas toast and hefty bagels.
Light-up LED buttons.
Bottom cord storage to save on space.
Two removable crumb trays for easy cleaning.
Independent control of both slot sets.
My favorite feature is the super-lift retrieval lever. I use small, flimsy organic bread slices that are often undersized and get even smaller when toasted. With this feature, I never have to risk reaching inside the slot to pull my toast out.
Conclusion
Everyone needs a toaster. But that doesn't mean you need to settle for some ugly half-plastic appliance that will only last you a couple of years.
The Buydeem 4-Slice Toaster brings style and functionality to your kitchen. The super-retro feel and sleek design combined with a ton of functionality and a quality build make this toaster the perfect addition to any hip kitchen.
To learn more about the Buydeem toaster or purchase one of these vintage appliances for yourself, click here.