A lawn mower is certainly an important tool to look after your lawn, but there is one more tool you'll need to ensure your lawn's edges are perfectly aligned.
This is where a weed eater comes into the picture. Also known as a weed eater, weed wacker, grass trimmer, or string trimmer, these specialized devices are fairly easy to operate and allow you an enhanced level of flexibility when it comes to cutting grass and weeds. But not all weed eaters are built alike.
That's why you need to use this guide to find which gas weed eater is right for your needs. We've reviewed 8 of this year's top gas weed eater models, so there's sure to be one that fits your budget.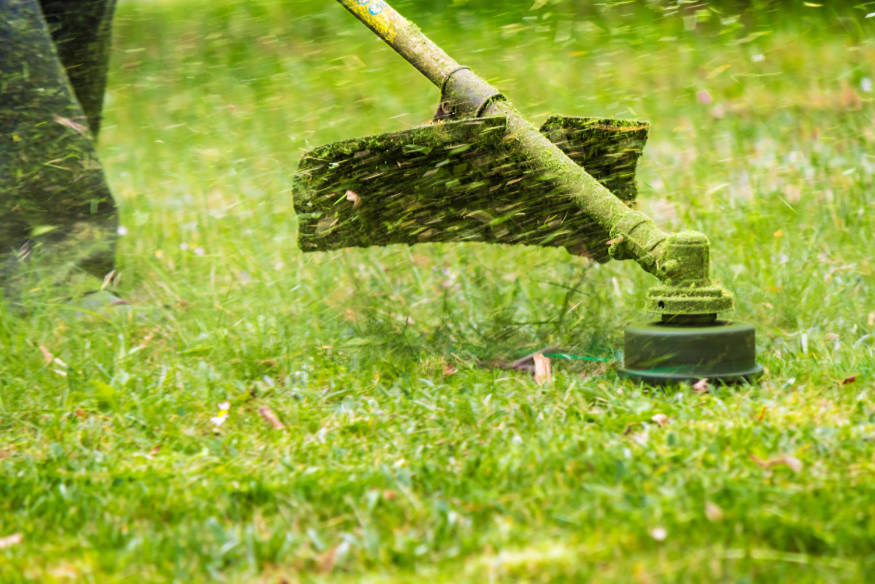 Disclosure: It is important you understand that we may receive commissions when you click our links and make purchases. However, this does not impact our reviews and comparisons. All opinions are our own we pride ourselves on keeping our articles fair and balanced. For more info see our disclosure statement.
Gas Weed Eater Comparison Table
Product
Details
Where to Buy
Engine Size: 28cc, 2-cycle
Shaft Type and Length: Straight, 40 inches 
Fuel Tank Volume (fluid ounces): 13.53
Weight (pounds): 11.11 
Warranty: 2-year
Cutting Width (inches): 17
Check Price Now
Engine Size: 27cc, 2-cycle
Shaft Type and Length: Curved, 62.5 inches
Fuel Tank Volume (fluid ounces): 11.6
Weight (pounds): 10
Warranty: 2-year
Cutting Width (inches): 17
Check Price Now
Engine Size: 35cc, 4-stroke
Shaft Type and Length: Straight, 75 inches
Fuel Tank Volume (fluid ounces): 22
Weight (pounds): 15.5
Warranty: 2-year (residential), 1-year (commercial)
Cutting Width (inches): 17
Check Price Now
Engine Size: 25cc, 2-cycle
Shaft Type and Length: Curved, 39 inches
Fuel Tank Volume (fluid ounces): 10
Weight (pounds): 13.27
Warranty: 2-year 
Cutting Width (inches): 16
Check Price Now
Engine Size: 42.7cc, 2-cycle
Shaft Type and Length: Straight, 73 inches
Fuel Tank Volume (fluid ounces): 40.6
Weight (pounds): 16.8
Warranty: 1 year
Cutting Width (inches): 16.8
Check Price Now
Engine Size: 58cc, 2-cycle
Shaft Type and Length: Straight, 72.8 inches
Fuel Tank Volume (fluid ounces): 37.2
Weight (pounds): 14
Warranty: N/A
Cutting Width (inches): 10.2
Check Price Now
Engine Size: 26cc, 2-cycle
Shaft Type and Length: Straight, 69 inches
Fuel Tank Volume (fluid ounces): N/A
Weight (pounds): 11
Warranty: 6-year (residential), 3-year (commercial)
Cutting Width (inches): 10
Check Price Now
Engine Size: 25cc, 2-cycle
Shaft Type and Length: Curved, 37 inches
Fuel Tank Volume (fluid ounces): 14
Weight (pounds): 17.4
Warranty: N/A
Cutting Width (inches): 17
Check Price Now
Our Top Pick
If you're looking to pick up a new gas weed eater without needing to do much research on your own, then check out our top pick – the Husqvarna 128LD. This model's modest length, wide cutting width, and larger-than-average fuel tank size will allow most users to accomplish their lawn trimming tasks without needing to stop to refuel or change their string.
The Husqvarna 128LD has also been designed with the average user in mind. That's why it utilizes this brand's proprietary Tap n' Go feature that allows the unit's head to be tapped on the grass to release further line. This model also includes Smart Start technology that allows a user to get a successful motor ignition with 40% less resistance on the pullcord.
The Husqvarna 128LD is also a champion when it comes to fuel efficiency. Not only does this model feature a translucent fuel container, but it also purges air out of the carburetor automatically. Given that this model also comes with a 2.6 bottle of compatible oil for no added cost, you can also see why current users consider this unit to be a great value buy.
The Best Gas Weed Eater Reviews
There are a lot of great gas weed eaters on the market today. In fact, there are so many that many popular brands have begun to lower their prices in order to remain competitive. A buyer like you could really benefit from those lower prices, especially if you are shopping on a budget.
But if you're simply looking for the best gas weed eater you can find, then you'll find it in this collection. Each of these models provides outstanding specifications, as well as features that can make it easier and more affordable to trim on a regular basis. Many of these models also include a worthwhile warranty, which can help justify an investment in a gas weed eater even further.
Husqvarna 128LD Gas String Trimmer
Best Gas Weed Eater
Key Specifications
Smart Start requires less effort when pulling ignition cord
Auto return stop switch allows for quicker starting and stopping
Tool-less couple allows unit to split in half for storage and transportation
Comes with free 2.6 oz. bottle of compatible oil
First up, let's have a look at the Husqvarna 128LD. As one of our top overall picks, you can expect this model to provide an outstanding level of performance, regardless of whether you use your weed eater for commercial or residential trimming. On both fronts, you can expect this model's 28cc 2-cycle engine and 17-inch cutting width to handle any weed thrown at it.
The Husqvarna 128LD is also surprisingly easy to use, starting with its ignition. To that end, this model utilizes a "Smart Start" system that reduces the amount of effort that must be exerted on the pull-cord ignition. Once you've got this weed eater in motion, you'll also be able to shut it off without completely killing the engine. Simply use this model's auto-return stop switch and you'll be able to pause your trimming on a dime.
As far as fuel usage goes, the Husqvarna 128LD is also a respectable option. This model's fuel tank can hold 13.53 fl. of fuel/oil mix at a time, thus allowing it to be of use for several hours on end. You'll be able to keep a close eye on those fuel levels, too, given that this model's fuel tank is made from durable, semi-transparent plastic. You can also efficiently purge air from this same fuel tank without much extra effort, making it even easier to start this unit without trouble.
When it comes time to take the Husqvarna 128LD on the road, you won't need to worry about lugging it about at full length. In fact, you can break down this unit to a shorter length by engaging its couple point. This action doesn't require any tools, either, which makes transporting this unit as easy as can be.
Compared to some other models in its class, the Husqvarna 128LD is a little pricy. However, it does come with a 2-year warranty that is easy to activate and make use of. This model also comes with a free 2.6 fl. oz. bottle of compatible oil. So, altogether, the Husqvarna 128LD is a pretty decent value, especially after considering this model's fantastic array of features.
---
Next up is the Husqvarna 129C, which has really made an effort to redefine "ease of use" when it comes to gas weed eaters. That starts with this model's curved shaft, which evenly distributes the unit's already lightweight load and makes it easier to trim with precision without needing to over-exert one's self. Without question, you'll physically be able to trim for longer with the Husqvarna 129C in your arsenal.
This is even true of some of the Husqvarna 129C's core functions. For example, extracting more line won't require you to stop trimming and fiddle around with this unit's head. Instead, you can just utilize its simplified Tap 'N Go function by pressing the head on a soft surface to release some extra line. This same T25 trimmer head is fairly durable as well and also easy to reload when your current spool runs out.
You won't need to hunt around for this model's choke and purge buttons, which is a significant difference from commercial models of the past. On the Husqvarna 129C, both buttons are centrally located to make ignition a breeze. Speaking of which, this weed eater's pull cord doesn't require almost any extra effort at all. Even a modestly firm pull should allow this model's 1.1 HP motor to whirl into motion.
Speaking of that same motor, you won't necessarily need to wear earplugs when you use this weed eater (though they are still recommended, along with safety glasses). That's because it only puts out 93 dB of noise, which is a sharp improvement from older gas weed eaters. It only produces around 3.7 m/s² of vibration, too, which further cuts down on user fatigue.
The Husqvarna 129C is a serious bargain among high-quality curved gas weed eaters. Like other weed eaters from this brand, you can expect its 2-year warranty to be fully honored as well. With that kind of price and warranty combined, you can certainly see why buyers of this model have become such fans of the brand in the long-run.
---
Honda may be better known for its cars. But perhaps they could gain a second reputation for quality gas weed whips if the Honda HHT35SLTAT has anything to say about it. This model utilizes a 35cc 4-stroke engine that is significantly more powerful than other units in its class. Despite all that power, this weed eater still starts up with ease. That's because it uses Honda's proprietary Quick Start system that minimizes the amount of force needed to achieve ignition.
Also, the Honda HHT35SLTAT has been hailed for its fuel efficiency. First off, this model doesn't require any special gas/oil mixture. It only requires regular unleaded gas, which already cuts down on its cost of operation. But then, because this model's motor is a 4-stroke rather than 2-stroke, it has been rated to use 50% less fuel overall. That's a difference you'll notice particularly if you have to do a lot of weed whipping around your commercial property.
Comfort and productivity is also a major focus of the Honda HHT35SLTAT. This can be felt as soon as this unit is switched on, at which point its rigid shaft reduces a great deal of the vibration that usually causes user fatigue. This anti-vibration system also plays well with this model's loop design handle, which is comfortable whether you are working with or without gloves on.
Without question, all of these excellent features come at a price. Specifically, the Honda HHT35SLTAT costs a bit more than usual. But for that price, you also get a 2-year or 1-year warranty for residential or commercial use, respectively.
This price also includes a useful harness strap and a set of safety glasses, which makes it easier to take full advantage of the Honda HHT35SLTAT right out of the box.
---
For a lot of homeowners and business owners, getting a gas weed eater is a must. But doing so on a tight budget can feel challenging, given that most worthwhile models today cost over $100. But not so with the Remington RM25C, which is priced well below that. For that price, you get a solid amount of performance centered around this model's 25cc engine. That motor includes QuickStart technology, too, so you won't need to tire yourself out to simply get the unit working.
Once the Remington RM25C spins into motion, you'll immediately notice one of its other unique features. To be specific, you'll notice that it utilizes a 0.95" line that is substantially thicker than the kind most other residential and commercial weed eaters use. While this thickness makes the line overall less flexible, you'll also find it stronger and more able to work through some tough underbrush. With a 16-inch cutting diameter, this line gets great coverage as well.
As if this line's size and durability were not enough, the Remington RM25C also provides an additional feature pertaining to its operational head. Moreover, this model's head actually allows for dual lines to be released at once. This can make it easier to chop through tough vegetation with ease while also ensuring that your trimming always remains at a uniform height.
Some prospective buyers might be worried that such an affordable unit might become a pain in the back, literally. But as it turns out, the Remington RM25C has a very balanced shaft that is curved at the end to make it even more ergonomic. This curve is located further down the shaft as well, thus making the whole unit feel lighter in hand.
With regards to a warranty, the Remington RM25C offers the standard 2 years of coverage. While it isn't likely that this model would break down before that point, it is nice to have this amount of coverage in case you're not fully satisfied with its performance.
Remington RM25C​ is available from Amazon.
---
Anyone who has worked in an industrial setting knows the Craftsman name and its association with quality products. Though it's outside their usual tool range, the Craftsman WC205 demonstrates that this brand knows what it is up to when it comes to outdoor maintenance equipment. This includes maintaining the industry standard for performance with its 25cc motor and 17-inch cutting diameter.
But the Craftsman WC205 also brings some unique features to the table as well. For example, the unique curve of this model's shaft makes it ideal for accomplishing hard-to-reach or excessively technical trimming. This model also includes a multi-position handle that is surprisingly easy to adjust and lock back into place. Taken together, the Craftsman WC205 provides a comfortable grip that won't get your hands aching after an hour or two of use.
In terms of compatibility, the Craftsman WC205 also has a lot to offer. For example, you'll be able to use fixed and pump line sizes up to 0.110" with this model. This weed eater can also be equipped with a number of other blade types to allow it to take on tougher trimming jobs. The Craftsman WC205's head is even compatible with other brands' equipment, making it easier to use this model without needing to shell out extra for special attachments later on.
All things considered, the Craftsman WC205 is also pretty affordable. That price includes a 2-year limited warranty that applies to all gas weed eaters. Given Craftsman's long history with warranties, I would expect them to fully honor this commitment, even as your weed eater reaches the end of its warranty coverage period.
Craftsman WC205 is available from Amazon.
---
Many folks may not be all that familiar with the Coocheer brand. But if you happen to try out their 42.7cc model gas weed eater, you might be convinced to recommend it to one of your friends. That's because this model packs an impressive amount of power. This is a direct result of this model's 42.7cc 2-cycle engine, which is also air-cooled to enhance its productive lifespan. This weed eater can even be used as a brush cutter, so long as you attach a more durable 18" cutting blade.
With that much power in the engine alone, you might be worried that this model is excessively bulky. But in practice, the Coocheer 42.7cc manages to maintain a modest weight by utilizing an aluminum alloy shaft. Though this shaft isn't the absolute most durable in its class, it can still hold its own through numerous years of use. By comparison, the line trimmer and 3-tooth blade heads that come standard with this model are much sturdier.
This model's fuel tank also deserves a mention of its own. At full capacity, the Coocheer 42.7cc can hold nearly 3 times as much as some other gas weed eaters in its class. That's a truly impressive amount that will allow you to complete a full day's worth of weed whacking on a single tank. That full day of work won't leave you too fatigued, either, given that this model comes standard with an adjustable handle and shoulder strap.
In terms of value, the Coocheer 42.7cc is a pretty good deal. Moreover, this model costs about as much as its competitors. It also comes standard with 3 interchangeable heads and a fuel mixing bottle, all at no extra cost. However, this model's lack of a listed warranty is a real mark against its overall quality.
Coocheer 42.7cc is available from Amazon.
---
Wild Badger Power WBP26BCI Straight Shaft Brush Cutter
Key Specifications
Twist-n-Load string trimmer spool allows for simplified reloading
Ergonomic trigger set includes auto-kill switch and soft grip handle
Lightweight design a result of aircraft-grade aluminum body
Exceptional residential and commercial warranties
Wild Badger Power is another brand that hasn't had a whole lot of visibility in the overcrowded gas weed eater industry. But that doesn't mean that you should ignore their WBP26BCI model. In fact, you should pay attention given that this model's 26cc full crank 2-cycle engine provides commercial-grade power in a package that is fit for residential use. That same motor is exceptionally reliable and will certainly last through numerous years of routine use.
Using the Wild Badger Power WBP26BCI is fairly easy, all things considered, especially when it comes to reloading the unit's string. To do this, you'll be able to utilize this model's proprietary Twist-n-Load string trimmer spool. This spool accepts new string without tangling, making it far easier to let out while you work. Meanwhile, this model's ergonomic trigger and its soft-grip handle make it increasingly easy to reach the auto-kill switch, if necessary.
Though it isn't the absolute lightest gas weed eater in its class, it's still worth recognizing the Wild Badger Power WBP26BCI for its overall light shaft and structure. A lot of that is thanks to this model's aircraft-grade aluminum body, which is as durable and corrosion-resistant as it is light. It even includes a Link On point, which you can utilize to collapse this gas weed eater and store it away compactly after use.
However, one of the Wild Badger Power WBP26BCI's most impressive features by far is its exceptional warranties. Specifically, this brand offers a 6-year warranty to residential users and a full 3-year warranty to commercial users. That's almost twice to three times as long as most competitors, making the Wild Badger Power WBP26BCI the clear winner among shoppers looking to make a wise investment.
Wild Badger Power WBP26BCI is available from Amazon.
---
MomiloeUS 42.7cc 2-Cycle String Trimmer
Key Specifications
Solid steel shaft reduces vibrations
Massive fuel tank is semi-transparent
Professional-grade 42.7cc motor lasts through years of use
U-shaped handle allows for maneuverability without sacrificing comfort
Finally, we come to the MomiloeUS 42.7cc. This is yet another offering from a lesser-known brand that you shouldn't overlook. That's because this model provides some outstanding features that can certainly meet the needs of users with a lot of trimming or weed whipping on their to-do list. That starts with this unit's 42.7cc motor, which is strong enough and durable enough to last through many years of regular use.
While checking out this model's engine, you're likely to also notice its massive fuel tank. In total, it can hold nearly three times as other weed whips in its price range. As a result, you can often tackle larger jobs with the momiloeUS 42.7cc without needing to stop and refuel. This model can also handle tougher cutting jobs as well, given that you can easily attach and utilize either the 10 inch or 18-inch cutting blades sets that come with it.
momiloeUS has also clearly designed their 42.7cc model with user comfort in mind. This can first be seen with its U-shaped handle, which can be maneuvered effectively to fit the unit into tight spaces without sacrificing the user's comfort. Perhaps more importantly, this model's steel shaft has been built with anti-vibration technology that can seriously cut down on user fatigue over the course of a long session.
Oh, the MomiloeUS 42.7cc comes standard with a shoulder harness for much the same reason, that is, to reduce user fatigue substantially. This model's standard warranty shouldn't leave you mentally fatigued either, given that it remains active for the first 24 months of this model's active life span. While this warranty could have been a little longer if it wanted to stand out, it offers good value given this unit's average price.
MomiloeUS 42.7cc is available from Amazon.
---
Gas Weed Eater Buying Guide – What to Look For?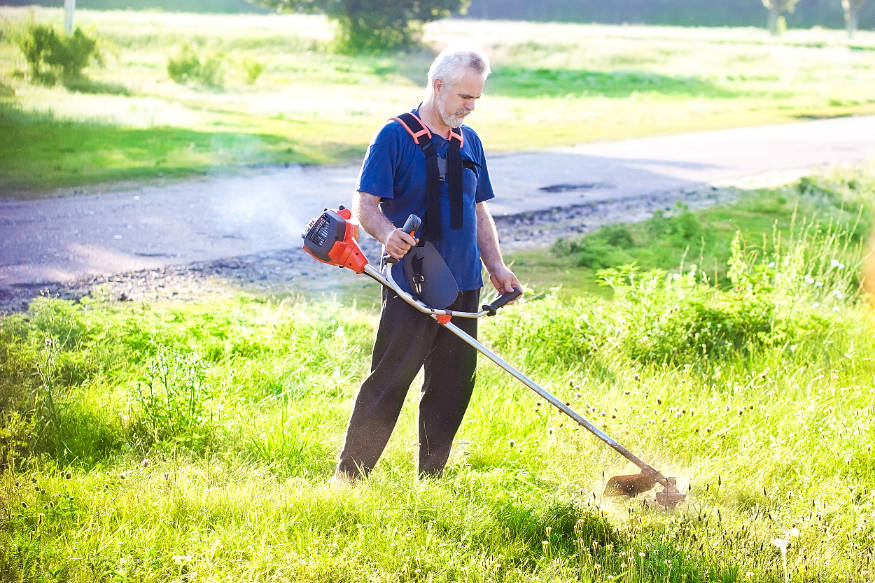 If you've never purchased a gas weed eater for your home or business, you may not know what to look for in a high-performing model.
Whether you know them as weed eaters, weed wackers, grass trimmers, or string trimmers, this succinct buyer's guide should help you make that leap from novice to gas weed eater buying expert:
Engine Type and Size
Often, you'll see gas weed eaters compared based upon their core power, as measured by the size and type of their engine. Most popular models today offer either a 2-cycle or 4-cycle engine, many of which provide varying amounts of horsepower output when fully engaged.
Generally speaking, a 4-cycle motor is more desirable simply because it is more powerful and more fuel-efficient. However, 2-cycle engines are more common and are typically included in affordably-priced units.
Though slightly less powerful and fuel-efficient, this latter type of motor is usually relatively quieter and produces less fatiguing vibration while in operation.
Fuel Capacity and Efficiency
Given that this kind of weed eater relies on gas as its fuel source (as opposed to battery power), it is only natural that many popular models are compared based upon their fuel capacity and efficiency. On the first front, gas weed eaters today come in a large range of capacities that can meet most residential and commercial needs. Larger fuel tanks are naturally heavier, but they also allow for longer trimming sessions without interruptions.
Meanwhile, fuel efficiency is a bit harder to gauge on its own.
Usually, you'll need to look to a model's user reviews to understand how quickly that model uses its fuel in practice. As a word of warning, a less efficient gas weed eater will always cost you more in the long run, even if its upfront cost is rather small.
Cutting Width
Sometimes called the cutting diameter, this metric communicates the amount of grass or weeds a given gas weed eater can cut without moving. In other words, a unit's head would be able to cut a 17-inch circle around its head when the unit is in motion.
While these widths do not tend to vary a lot, even slight variations can make a significant difference for folks who want to weed whip or trim as efficiently as possible.
Shaft Length and Type
Gas weed eaters come with varying shaft lengths and types, both of which can directly impact their performance.
For example;
a longer gas weed eater tends to be easier to use without requiring the user to hunch over.
Along the same lines, a weed eater with a curved shaft type tends to be more balanced. This, in turn, can result in less user fatigue over time.
Also, some modern gas weed eaters are constructed with portability in mind. As a result, their shaft can be split easily and safely into two parts. These models are particularly valuable to homes and businesses without a lot of spare storage space for this kind of outdoor maintenance tool.
Handle Type, Weight, and Ease of Use
Using a weed whip of any kind can be tiring work. But often, gas weed eaters are built to counteract some of these fatiguing factors by, for example, adding a more ergonomic handle type. These models usually rearrange their trigger layout to make it increasingly easy to manipulate the unit without trouble.
A gas weed eater's weight can also play into how much it fatigues its user. An easy to use weed eater would, of course, be very lightweight. However, when comparing gas weed eaters, in particular, be sure you are comparing based upon the unit's weight with a full fuel tank. This will ensure that you are able to use that unit with ease when it is at its heaviest.
Line Size
Line size can also be an important factor when comparing gas weed eaters, particularly those that use a line-based whipping system. Lines can range in size, not all of which are compatible with every model.
Moreover, re-spooling every model is not easy, either. Here, again, it is worth your time to check out other user's reviews to see which line sizes worked best and if it was easy to change that line when it became too short.
Attachment Capability
Some models will advertise their attachment capability, which usually speaks to that gas weed eater's ability to use a solid cutting blade rather than a line whip alone.
This, in turn, allows that weed eater to be used in tougher trimming jobs as well as in the service of cutting out underbrush.
Price and Warranty
As with all of your outdoor maintenance equipment, be sure that you are getting a good deal on your chosen model by comparing its price on several different online retailers.
While price plays into this, be sure to analyze the cost of the unit versus the benefits it provides beyond the industry average. This includes any active warranties that come with a unit, as these can save you a significant amount of money in the long run.
FAQ – Frequently Asked Questions about Gas Weed Eaters
What is a weed eater?
In essence, a weed eater or weed whacker is a specialized type of outdoor power tool that allows you to trim grass and weeds with a greater level of precision than a lawn mower.
Weed eaters are typically used for trimming purposes around an area's edge or in a hard-to-reach area (such as between fence posts or around a tree's base).
Related Post: The Best Electric Grass Shears
What is a fuel/oil ratio?
Most gas weed eaters do not operate with straight unleaded petroleum. Instead, many require a specialized fuel/oil ratio that includes compatible oil mixed into a proper volume of unleaded gas.
These ratios will vary from model to model, with some more industrial models requiring a higher ratio in order to facilitate a greater level of performance.
To learn about your model's fuel/oil ratio, be sure to check the user's manual that it came with.
What kind of gas can be used in a gas weed eater?
Most gas weed eaters are compatible with unleaded fuel, the same kind that is used in most cars and trucks. However, they use a much smaller volume per refill.
As such, it is essential to dispense any fuel that will be used for your gas weed eater into a certified container that is properly ventilated. Also, be sure to adhere to the proper fuel/oil ratio set forth in your model's user's manual.
How should I store weed eater fuel?
When you plan to use your gas weed eater regularly, it is permissible to leave some fuel in your unit's tank. However, when don't intend to use your weed eater for an extended period of time (such as during the winter), you should always drain out any remaining fuel/oil mixture into a certified container.
As for unmixed unleaded gas and oil, these should be stored in separate certified containers in a well-ventilated area.
How do I restring a gas weed whip?
Though the precise process differs from model to model, this process should always start by ensuring that any safety switch on your weed eater is switched on. Then, inspect the unit's head and remove the retaining ring.
Once the spool is removed, cut one (or two, for two-line models) 20-foot length of compatible weed eater line. From there, you'll begin the spooling process, which can be read about in greater detail here.
How long does gas weed eater string last?
Gas weed eater sting is typically made of a hardened plastic material, meaning that it will eventually break down and break. This is normal, which is why gas weed eaters are always strung with decent amount of line at all times.
Most thinner lines will degrade over the course of an average job, while thicker lines can stand up to the wear of thicker weeding jobs.
Is a gas weed eater better than an electric weed eater? Better than a battery-powered weed eater?
"Better" on this front is generally a matter of personal opinion based upon your budget and needs when it comes to weed whacking.
For example, if you need a lot of power and the ability to refill in a hurry, a gas-powered weed eater is a great choice.
Meanwhile, many residential users who only need to trim occasionally will find a battery-powered unit ideal. The same can be said of electric weed whackers, which are best suited for use in spaces that are limited in size (such as a home's front yard).
Is a weed wacker, grass trimmer or string trimmer the same as a weed eater?
Yes! These are all just different names for the same tool. In Australia, a weed eater is known as a whipper snipper!
Conclusion
Who knew there was so much to know about gas weed eaters? Well, now you know what you need to shop for and select the gas weed eater model that meets your needs and your budget. As you've also seen, there are a wide variety of high quality models that can serve your home or business lawn trimming needs well.
But of course, a couple of models from this collection still stand out above the rest. The Husqvarna 128LD takes top billing, for example, given its overall balanced body and curved shaft that make it superbly maneuverable. This body also reduces used fatigue, which is its own major advantage. That model's Tap 'N Go function isn't to be missed either given that it simplifies the process of releasing extra line.
As a close runner-up, the Honda HHT35SLTAT deserves its own honorable mention. While there's no question that this model costs more than the others, it also packs a punch with its 35cc 4-stroke engine. This model's 22 fl. oz. fuel tank is nothing to cough at either, given that it far exceeds the industry average for gas weed eater fuel tank capacity.