Mold is not fun to be around. Not only can this kind of fungus cause sneezing, stuffiness, and other allergy symptoms, but certain kinds produce mycotoxins that can cause acute reactions, immune deficiency, and even cancer.
Unfortunately, it can be hard to avoid mold—this substance is just about everywhere.
But there is one way you can better protect your home and family from the effects of mold. And that's by using an air purifier.
Not just any air purifier will do, however. Battling mold requires the right kind of filter, the right sized unit for the space, and a quality product that does what it advertises.
To help you find the right air purifier to help stop spores in the air, we've put together this list of the best air purifiers for mold. These highly capable machines have the right kind of filter and the necessary power to neutralize mold spores before they spread.
Disclosure: We may receive commissions when you click our links and make purchases. This does not impact our reviews and comparisons. All opinions are our own. We pride ourselves on keeping our articles fair and balanced. For more info see our disclosure statement.
Air Purifiers For Mold – Quick Comparison
Product
Details
Where to Buy

Filter type: Earth mineral cartridge and HEPA
Room size rating: 1,000 sq ft
UV-C light?: Yes
Dimensions: 15.5″ x 15″ x 22″

Check Price Now

Alen BreatheSmart 75i

Filter type: H13 True HEPA
Room size rating: up to 1,300 sq ft
UV-C light?: No
Dimensions: 27" x 18.5" x 11.5"

Check Price Now

Filter type: HEPA plus activated carbon
Room size rating: Up to 194 sq ft
UV-C light?: No
Dimensions: 13" x 8"

Check Price Now

Filter type: H11 HEPA with ionizer, cold catalyst filter, and activated carbon
Room size rating: 700 sq ft
UV-C light?: No
Dimensions: 13" x 7" x 20"

Check Price Now

Also available at Amazon

Filter type: H13 HEPA with carbon prefilter
Room size rating: Up to 1,800 sq ft
UV-C light?: No
Dimensions: 15.5" x 15.5" x 17.5"

Check Price Now

Filter type: HEPA with activated carbon filter
Room size rating: 335 sq ft
UV-C light?: Yes
Dimensions: 9.75" x 17" x 27"

Check Price Now

Filter type: HEPA with ozone-free dual ionization
Room size rating: Up to 850 sq ft
UV-C light?: Yes
Dimensions: 5.4" x 8.5" x 9.7" to 11.2" x 11.2" x 37"

Check Price Now
Do Air Purifiers Help Remove Mold?
Yes, air purifiers can help remove mold from your home. But how they do this and how effective they truly are isn't as straightforward as one may think.
How Air Purifiers Help with Mold
Air purifiers help with mold by trapping the free-floating spores in the filter. These spores are what cause allergic reactions in sensitive individuals.
The average mold spore is between 2.5 and 10 microns in size—an easy size for most air filters to capture. By running an air purifier, you can greatly reduce symptoms of mold allergies and stop mold from spreading through your house.
Some types of mold also release toxins into the air. These particles, known as mycotoxins, are smaller than spores at about 0.1 microns. Capturing these particles requires a more sophisticated filter, which all the purifiers on this list have.
Where Air Purifiers Fall Short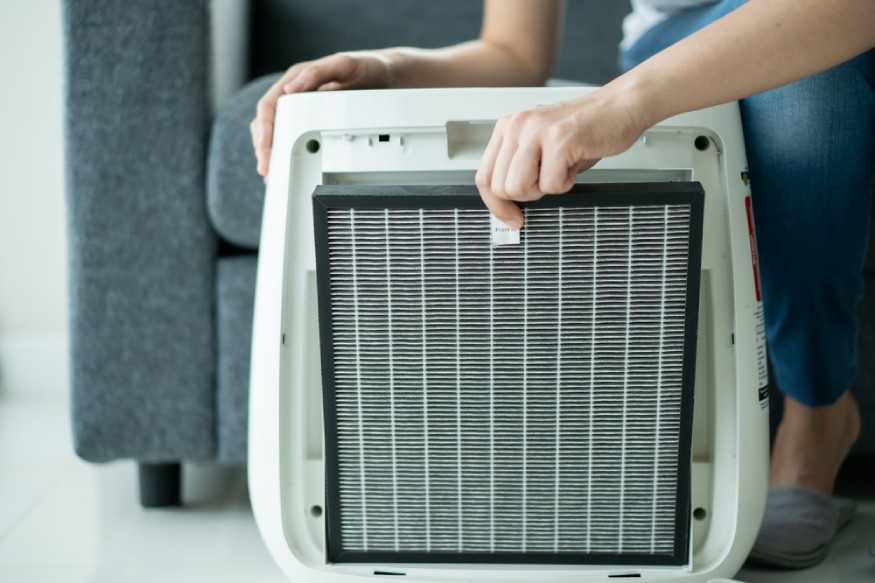 While air purifiers are great at capturing airborne spores and mycotoxins, they don't do anything to address mold growth on surfaces. As mold grows, it will continuously release spores, and potentially mycotoxins, into the air.
You'll need to address the mold to find lasting relief from mold.
Mold grows when porous surfaces like drywall and flooring get wet and stay moist. Typically, this happens when something is leaking or after a flood.
After the cause of the leak has been addressed, any porous surface actively growing mold will need to be removed and replaced. Harder surfaces can be cleaned and disinfected.
Once the active mold is removed, you'll need to dry the space to prevent future mold infestation. You can use a dehumidifier to remove humidity from the air and further dry surfaces.
Info: Using an air purifier during this process will help prevent the mold from spreading and reduce respiratory symptoms.
What We Look For in an Air Purifier
There are a lot of factors to consider when looking for a good air purifier for mold. What plays the biggest role in how well a purifier works for mold is the type of filter it uses. But you should also consider the unit's size, storability, and maintenance costs.
Filter Type
There are three types of filters that you can use to combat mold. Each plays a slightly different role in neutralizing mold spores and toxins.
HEPA Filters – HEPA filters are prized for capturing tiny and large particles. They can capture 1 to 10-micron spores and 0.1-micron mycotoxins.
Activated Carbon Filters – Carbon filters don't filter particles; they neutralize odors and VOCs. During the process of metabolism, molds put off a variety of VOCs, including some toxic VOCs. Having a carbon filter integrated with the HEPA filter is important to remove these compounds from the air.
UV-C Light – Having a UV-C light integrated in your purifier can help kill mold spores as they pass through the unit. It can also prevent spores captured in the HEPA filter from establishing and growing inside the unit.
All of the units on our list feature at least a HEPA filter capable of capturing both mold spores and mycotoxins. Many also feature carbon filters and UV light to increase overall effectiveness.
Portability and Storability
If you're buying a purifier just to purify your air following a leak or flood, it's important to consider how easy the appliance will be to move and store.
Smaller units are more portable and easy to find storage space for. But these units are also less effective, especially in large spaces. In our list, we awarded more points to units that showed a higher cleaning efficiency while maintaining a more compact design.
Room Size Rating
You will need to match the air purifier to the size of the room you will use it in.
Units with a room size rating greater than 800 square feet are optimal for basements, crawlspaces, and other open-air rooms with a lot of space to cover. But if you're looking to eradicate mold in a bedroom or bathroom, a small unit can easily get the job done while saving you money in operating costs.
We chose various purifier sizes to ensure you can find the right one to fit your needs.
Maintenance Costs
Complex, multi-layer filters are great at removing mold from the air but they can be prohibitively expensive to replace when the time comes. On the other hand, cheaper filters are less effective and need to be replaced often.
Finding a quality air purifier you can afford to maintain means striking a balance between effectiveness, replacement costs, and replacement frequency.
Air Purifiers For Mold
Enviroklenz Mobile UV Air Purifier
Best Features
1,000 sq ft room size rating
Thick, multipurpose filter system
Optimized for toxin removal
Five speed settings
The Enviroklenz UV air purifier was developed using military technology to neutralize toxic chemicals in wartime biological weapons. And it does a pretty dang good job tackling mold in the air.
The process starts with a high-powered fan that draws air through a large intake vent and over one of the thickest filters you'll see in a home-use unit.
This filter consists of a unique earth mineral cartridge that works much like a carbon filter to neutralize odors and VOCs. This filter is especially effective against the toxic VOCs put off by some types of mold. The cartridge is also paired with a 4-inch thick HEPA filter that captures any mold spores that slip through the first filter and over 99.9% of mycotoxins.
It also comes with two UV lights to ensure none of the mold spores caught by the filters have a chance to grow or reenter the environment.
These lights can be powered on or off during use as desired.
The hefty filter on this unit is not cheap, and maintaining the UV lights adds a bit of extra cost.
You can expect to spend about $600 every two years.
Note: If you're after a seriously powerful purifier that can effectively remove mold from the air during extensive mitigation, this is the unit you want.
The Enviroklenz is rated for rooms up to 1,000 square feet, making it perfect for basements, crawlspaces, and full house mitigation. And it has five-speed settings for highly customized use.
To learn more about why we love this product so much, check out our full Enviroklenz UV Purifier review.
---
---
If you're after a large capacity purifier to tackle irritating mold spores and reduce allergy symptoms throughout your home, the Alen BreatheSmart 75i is a great choice.
The standard version of this purifier doesn't come with a ton of features in the filter department. But even without the upgrades, this purifier can help combat mold. The H13 True HEPA filter removes 99.99% of allergens including mold spores.
If mold odors, VOCs, and mycotoxins are just as much of a concern, you can easily upgrade to Alen's Fresh filter. It uses the same HEPA filter but has an added carbon layer to remove chemical toxins and odors.
With either filter, this powerful unit can take on spaces as large as 1,300 square feet. And it does all this while using less energy than your average purifier, making it a great choice for extended use.
Maintenance costs are on par with most average purifiers at about $100 to $140 every six months.
The BreatheSmart includes an easy reference air quality indicator light, so you know when mold levels require a higher operating speed to eradicate.
In addition to customizable filter choices, the i75 also comes with various front panel designs so you can choose the best look to fit your home decor.
Want to learn more about what makes this air purifier a great choice? Check out our full Alen BreatheSmart Air Purifier review.
---
For fighting mold in the bedroom or other small spaces, the hOmelabs True Hepa Air Purifier is an affordable and effective option.
This highly portable and easy-to-place unit is perfectly sized for the nightstand, dresser, or bathroom counter. The 360-degree air intakes along the bottom allow for better airflow and complete mold eradication.
Like all others featured here, this little unit uses a true HEPA filter to capture mold spores and tiny mycotoxins before they can spread and irritate your respiratory tract. And the added carbon filter helps reduce mold odors and fight VOCs.
This purifier also includes a washable pre-filter to catch hair, dust, and other large particles before they can clog up the finer filters inside. This means lower maintenance costs for you.
Maintenance costs can only run up to about $35 every six months.
Further reducing your operating costs is the low energy use of this little purifier. On low power with the lights turned off, this unit uses hardly any energy at all. This makes it a great choice for those who want to run their purifier 24/7 or at least every night.
The hOmeLabs purifier comes with a two-year warranty and a handful of useful features like three fan speeds, lights-out mode, and a child lock. You can learn more about how well this product works by reading our full review here.
---
The HathaSpace Smart Air Purifier combines a number of unique filter types to stop mold in all forms.
The cold catalyst filter starts things off by targeting VOCs and other toxins mold releases. Then comes the activated carbon filter to absorb offensive mold odors. Lastly, the H11 HEPA and ionizer work together to capture mold spores and other particles.
These unique filters fit inside the slim body of this impressively high-rated purifier. Despite its small size, this unit can effectively purify rooms up to 700 square feet. Plus, its slim design makes it easy to place the unit in any room, on the floor, the counter, and even against the wall.
One of our favorite features of the HathaSpace is the smart auto mode function. In this mode, the unit will automatically dial the fan up or down depending on the room's air quality. Not only does this make things easier for you, but it also saves energy in the long run.
Speaking of saving, this purifier is also one of the cheapest to maintain, thanks to the inexpensive filter replacements. With average use, this unit will only cost about $40 to $60 every six months.
The HathaSpace comes with remote control for easy operating and a 2-year warranty for peace of mind.
---
Similar to our top pick, the TRACS EZ-Air purification system is a utilitarian device that earns its worth by how effective it is.This metal unit is smaller than the Enviroklenz but shares many of the same great features.
The biggest difference is that this TRACS® air purifier is for spaces up to 1,875 square feet. So, whether you're looking for a purifier to take care of mold in the basement or just to cleanse the whole house, it's powerful enough to step up to the challenge.
Moreover, its filter system is designed to tackle both particles and VOCs. The Patented CarbonWeb® Merv 8 Pre-filter will stop mold odors and toxins in their tracks. And the medical grade H13 HEPA filter is powerful enough to remove 99.99% of particles both bigger and smaller than 0.3 microns.
The most impressive part about this unit is the lifespan of that HEPA filter. While the carbon filter needs replacing every six months, this larger filter can run up to 3 to 4 years between replacements.
That works out to just over $100 in maintenance costs each year. Not bad at all for a unit as effective as this one.
The TRACS EZ-Air has four fan speed settings, including an ultra-quiet mode for nighttime use. And it comes with a 5-year mechanical warranty for peace of mind.
---
The AirOasis iAdapt Air provides powerful air purification and a ton of great features that make it easier to use than most.
The filter consists of multiple layers that easily target mold in every form. The activated carbon layer neutralizes mold odors and captures harmful VOCs. Next, the HEPA filter works to pull large and small particles from the air, including spores and mycotoxins.
A non-ozone ionizer and UV lamps then neutralize mold and other pathogens, completing the purification process.
Like all purifiers included on this list, the iAdapt Ait does a great job battling mold. But what sets it apart is the unique Wifi connectivity of the unit. This allows you to control your purifier from your phone no matter where you are.
The AirOasis iAdapt Air also comes in three sizes.
The small unit is portable, easy to store, and works for rooms up to 250 square feet. On the other hand, the medium unit can cover a larger area (up to 550 square feet) but is still easy to move around.
As expected, the large unit is a bit more difficult to move and store but offers the largest room coverage at 850 sq ft.
Upkeep of these units ranges from $50 to $125 every six months. Each comes with a lifetime warranty and useful extras like an air quality indicator and various run options.
To learn more about what they can do, check out our full iAdapt Air Purifier review.
---
This highly capable air purification system uses a triple-action approach to neutralize mold spores and mycotoxins.
The activated carbon filter captures mold odors and toxic VOCs, while the HEPA filter works to neutralize particles. An optional ionizer is available to supercharge micro allergens like mycotoxins to help attract them to the filter.
The system also includes a UV-C bulb for further mold eradication and control.
While many companies we looked at have only tested their purifiers against general allergens, dust, and smoke, the Germ Guardian has proven effectiveness against Aspergillus niger—a common mold known to cause pneumonia.
This unit also has plenty of user-friendly features, such as a carrying handle for easy portability, three fan speeds, and a timer function.
The Germ Guardian is rated for rooms up to 335 square feet, but it is a surprisingly large unit. Good thing its sleek design and narrow build make it easy enough to place in the bedroom, office, or kitchen.
This product does carry a higher price tag than many in this size class, but the maintenance costs are very reasonable at around $85 every six months.
---
Air Purifier Specification Comparison Table
The Final Word
The mycotoxins and spores released by mold can cause a long list of health problems. Fortunately, the best air purifiers for mold can help eradicate these toxic substances.
For mitigation jobs that make you feel like you're at war with mold, the Enviroklenz Mobile UV Air Purifier is the only way to go. This beast was designed using military tech and has proven effectiveness against mold spores and VOCs. Plus, it's rated to cover spaces up to 1,000 square feet, making it a great option for basements.
If, on the other hand, you need something a little more versatile for everyday use, the Air Oasis iAdaptAir has you covered. This highly effective purifier comes in three different sizes and features some great functions, like phone app control, that make it perfect for everyday use.
Remember, if you have mold in your house, you are inhaling toxic mold spores and mycotoxins!